PROFISEE MASTER DATA MANAGEMENT PLATFORM
Break down data silos and deliver certified, business-ready data with cloud-native MDM that can scale with your business.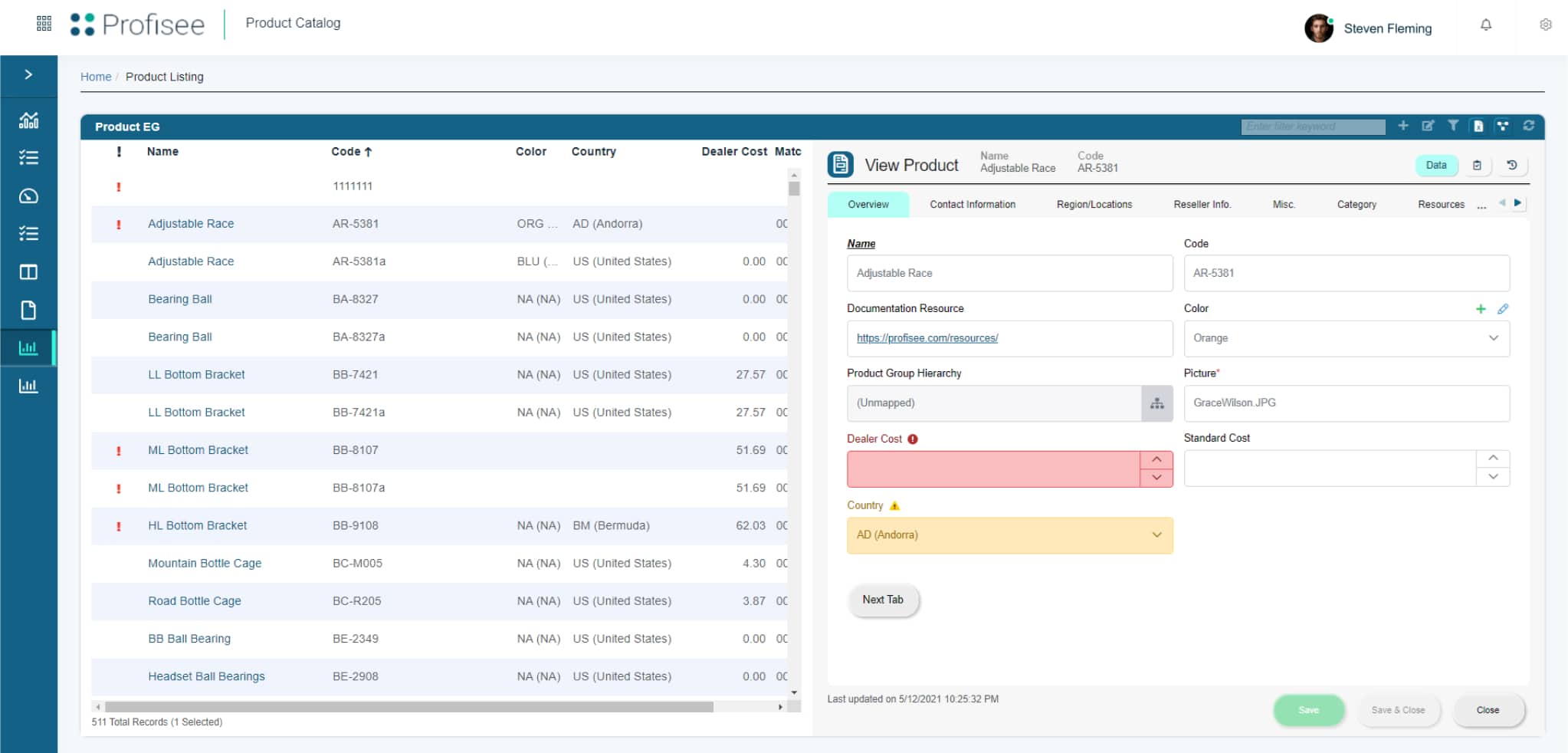 See the most complete and accurate information for your customers, products, and more.
Easily surface records that don't meet pre-set standards and remediate directly in the platform.
Update records from the Profisee UI and sync changes directly to source systems.
How profisee master data
management works
The Profisee Platform makes it easy to connect any data source, enforce quality standards, sync across systems and deliver high-quality, trusted data to end users.
Custom Apps
Legacy Apps
Custom Apps
Legacy Apps
Sync to Systems
BI & Analytics
Data Warehouses
BI & Analytics
Data Warehouses
DELIVER CERTIFIED DATA TO YOUR BUSINESS USERS
DELIVER CERTIFIED DATA TO YOUR BUSINESS USERS
Profisee's codeless, configurable platform makes it easy to identify and clean data from any source with an intuitive UI powered by machine learning.
Identify similar and related data
Let Profisee's machine learning-powered matching engine identify similar data and duplicate records across data sources and within systems.
Create trustworthy data
Create a strong foundation of trusted data so you can finally put an end to 'data clean-up.' Overcome data silos and leverage mastered data for any use case with flexibility and configurability.
Enrich & validate data
Profisee helps you make your data even better with easy-to-configure integrations with best-in-class third-party services like Google, Melissa, Loqate, Dun & Bradstreet and more.
Understand hierarchies & relationships
Profisee's visual relationship management can help you identify previously unknown patterns in your data so you better understand your most valuable customers, detect new revenue streams and more.
An intuitive UI allows users to easily edit and correct data to eliminate duplicates, inconsistencies and fill gaps all in one single view.
MACHINE LEARNING BUILT-IN
The industry's most sophisticated matching engine is easy to configure while bringing the highest degree of accuracy across any data silo or data domain.
GRAPH-BASED VISUALIZATIONS
Swim through data relationships, edit values and expand records all in one view for a more streamlined, intuitive stewardship experience.
Quickly integrate with your Microsoft ecosystem with native integrations with Microsoft Purview, Azure Data Factory, Power BI & More.
BUILT FOR MODERN INTEGRATION
Profisee's codeless integration helps get data clean and automatically publishes it back source systems or applications giving you reliable, trusted data.
BUILT FOR MODERN BUSINESS
Profisee has more deployments in less than 90 days than any MDM vendor, so you can implement and add value quickly.
BREAK FREE FROM TRADITIONAL MDM
Profisee is augmented, multidomain, cloud-native MDM that can handle any use case, implementation style or industry.
ANY IMPLEMENTATION STYLE
Analytical, Operational, Hybrid
ANY TYPE OF DATA
Customer, Product, Location, Asset & More
ANY DEPLOYMENT
Turn-key SaaS, PaaS, On-prem
ANY CLOUD
Azure, Amazon Web Services, Google Cloud, Snowflake
ANY USE CASE
360-degree View, BI/Analytics, ERP Consolidation & More
ANY ARCHITECTURE
Data Fabric, Data Mesh, Hadoop
Encryption at Rest
and In-Flight
EXPLORE THE PROFISEE PLATFORM